Tickets to Phuket for the winter holidays cost up to 242 thousand rubles
There are just over three months left before the New Year holidays – in the tourism industry this is the optimal time to start planning trips and buying tickets in advance: now you can still catch great deals. True, "profitable" in the conditions of 2023 and the protracted depression of our national currency is a rather vague concept: often this means that a ticket to an exotic resort will cost 100 thousand, not 150. However, the difference by a third is also quite significant. MK looked into where you can go for the New Year and how much it will cost.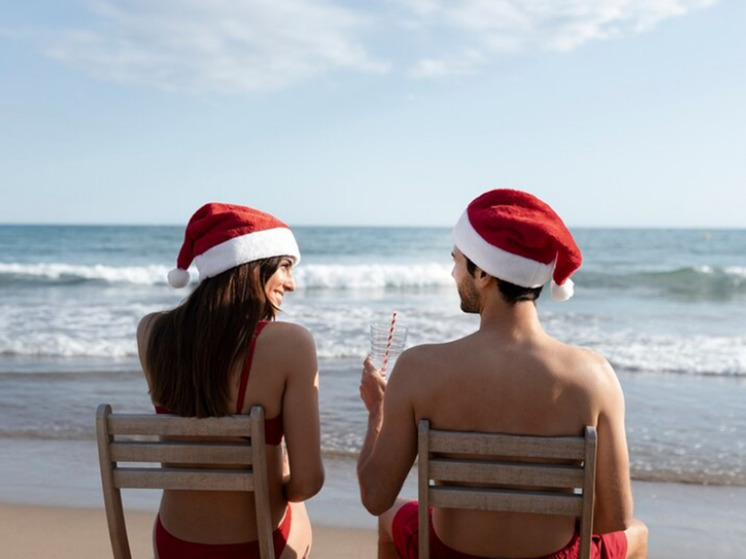 Photo: freepik.com
In most club hotels near Moscow you can still book a room (or house!) for three holiday days – from December 30 to January 2, including New Year's Eve. True, the prices for such pleasure cannot be called modest: you need to be prepared to pay 100–120 thousand rubles for a vacation in a hotel with a bathhouse, a swimming pool, an area for walking and other amenities. Looking at such high prices, many ask a natural question: maybe it's better to go somewhere instead of overpaying for the Moscow region?
During the winter holidays, warm countries are in greatest demand – many people want to spend time on the beach and escape the Russian winter at least for a while. Tickets to Phuket, the most popular resort in Thailand, during the New Year holidays cost up to 242 thousand rubles (if without transfers). Those who are ready to fly through Beijing or Shanghai will pay approximately 85 thousand rubles. To this amount, of course, you will have to add the cost of hotel accommodation. A "package" tour may be more profitable, but one way or another you need to prepare to shell out at least 200-250 thousand for two.
A direct flight to the paradise Maldives will cost 160 thousand. In Bali – at least 106-107 thousand, and there are flights only with transfers in China. In Goa – 120 thousand. Well, the most common option, a "package" tour to Egypt, this year will also not be too cheap – at least about 200-250 thousand for two for a week in Hurghada or Sharm el-Sheikh at an all-inclusive hotel.
The traditional question: "What's wrong with Europe?" Three months is enough time to get a Schengen visa: the consulates of Italy, France, Greece, Spain and Portugal are most friendly towards Russian tourists. A week in Rome with a visit on December 25th – for those who want to spend Catholic Christmas closer to the Pope – will cost 38-40 thousand rubles (this is the cost of a ticket with a transfer in Yerevan). Another good option is a week of New Year's vacation in Athens, where it is sunny, warm and oranges in January, but it will be more expensive: tickets sell for 55 thousand rubles. Tickets for the New Year holidays in Paris will cost 55-60 thousand rubles (with a transfer in Algeria). Well, you can fly to Strasbourg, the generally recognized capital of Christmas, from Moscow for at least 100 thousand rubles – by the way, it will be more profitable to fly to Paris, and then take a train from there.
The rules that need to be kept in mind when planning the New Year holidays and purchasing tours – no matter to the Maldives, Europe or Sochi – lawyer and tourism industry specialist Georgy Mokhov recalled in a conversation with an MK correspondent:
– First of all, you shouldn't rush to the first special offer you come across, even if the price seems tempting. Wait a little, monitor the prices, compare similar offers for the same dates and the same hotels. During holiday sales, phishing scams are always active—it's important to avoid falling victim to them. Therefore, the next step is to check the tour operator in the Unified Federal Register of Tour Operators. If you buy a tour from a travel agent, he must also be in the federal register of travel agents, where his authority to sell is confirmed by each tour operator whose tours he sells. I repeat, there are two federal registers: the register of tour operators and the register of travel agents – both need to be checked, the expert explained.
Mokhov also reminded that it is necessary to conclude an agreement, at least in electronic form, and receive payment documents. It is important that the data of the person with whom you enter into an agreement and the person you pay match. If a travel agent asks to transfer money to a personal card, this is a very bad sign. You should definitely ask for a receipt – this way, if problems suddenly arise, you will have confirmation in your hands.
For many trips (mainly to Europe, but not only) Russians today require connecting flights. This is a specific genre, which also has its own rules. The main thing is to remember the risk of flight delays, which has now worsened due to the turbulent situation in Russian airspace. According to Georgy Mokhov, there are two ways to protect yourself: firstly, do not take tickets with too short connections (should be at least 2-3 hours!), and secondly, buy a ticket from the same carrier for both segments of the flight. In this case, if you miss the second flight due to a delay in the first, the airline will be obliged to take you to your destination on the next plane.