A popular part-time job in the country is clearing cemeteries
An unpredictable situation has developed on the Ukrainian labor market. On the one hand, despite the one and a half year martial law, there are just over 112 thousand unemployed people. On the other hand, some of the 5 million Ukrainian citizens who emigrated during the SVO (most of them women) will probably return to their homeland and will apply for the jobs they occupied in the past.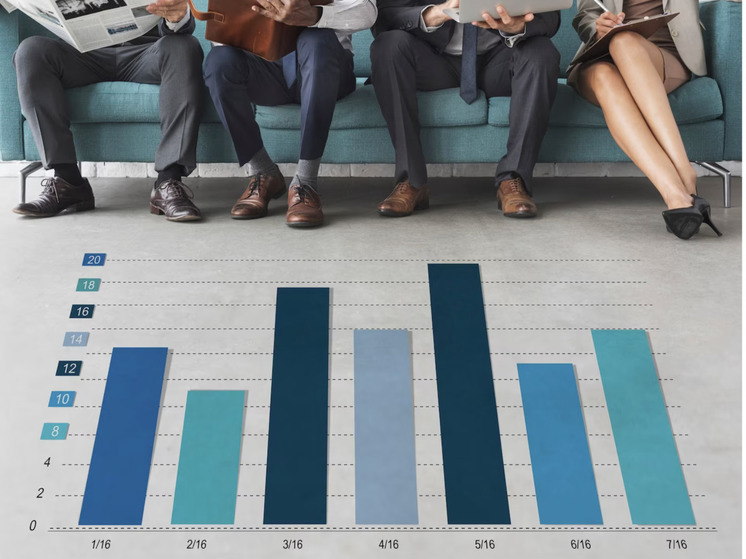 Photo: freepik
Another significant part of the population, military personnel and law enforcement officers seconded to the combat area, are rightly afraid of difficulties in adapting to civilian life. In this sense, veterans who were wounded during the SVO are especially worried. The Ukrainian state, as suggested by 72% of its current defenders, can easily avoid fulfilling its promises: people will not be provided with work with decent remuneration for their work. The MK correspondent tried to find out how the compatriots who remain in the "labor system" feel and how fairly their employer evaluates their work.
Compared to 2022, Ukraine is registering a decline in the vast majority of areas of human activity. Relative stability is observed only among government managers, including middle managers. And some also envy the "eggheads" who at one time managed to integrate into the IT industry, marketing, advertising and PR business.
Today's Ukrainian computer scientists are the highest paid of all other people remaining in Ukraine. On average, any of them has 19 thousand 187 hryvnia (50 742 Russian rubles) per month. In fact, their work should be valued much higher….
Workers in administrative positions and in middle management receive an average of 19,418 UAH. (RUB 51,353). It is worth noting that the earnings of this category of Ukrainians, compared to the previous year 2022, fell by almost a thousand hryvnia. Allegedly, President Vladimir Zelensky himself gave instructions to "sharply slow down" when calculating salaries of "production commanders" – so that they "do not tease the geese," that is, avoid grumbling among fellow citizens. However, from time to time, screenshots with figures in the accounting records of the mayor's offices of large and medium-sized cities are published on social networks. Few of the city governors managed to resist the temptation to sign an order on bonuses for a group of their closest subordinates. It goes without saying that the size of the official total income, including this very bonus, for any of the mayors is no less than 100-120 thousand hryvnia (264,462 – 317,354 rubles). We learn weekly about the unofficial addition to these amounts from the press services of the National Anti-Corruption Bureau (NABU) and the Security Service of Ukraine (SBU).
In third place in the list of the most profitable professions in Ukraine are people who are in one way or another connected with architecture and construction. Their official salary now averages 19 thousand 507 hryvnia (51 589 rubles). Again, last year it was possible to earn more in this industry.
But in marketing, advertising and PR, compared to 2022, life has become better, life has become more fun. The average salary of a Ukrainian involved in this field of activity is now 18 thousand 225 hryvnia (48 198 rubles).
Compared to PR specialists, Ukrainian accountants and auditors feel like "poor orphans": their average monthly salary does not exceed UAH 15,295. (RUB 40,449). In the hotel and restaurant business they pay a little more – 15,557 UAH. (RUB 41,142). The "chiefs in design" and various creativity showed themselves to be even more generous – 17,029 hryvnia (45,035 rubles).
It is appropriate to recall: salary indicators in the capital and in the regions are traditionally unequal. If the all-Ukrainian average salary is calculated at 16,795 hryvnia (44,416 rubles), then in Kyiv a resident has the right to count on at least 18,839 UAH. (RUB 49,822).
For those who, for whatever reason, are not ready to get a permanent job, but do not want to be left without money, in wartime conditions, tempting offers also appear at first glance. In each region – very different.
In Northern Ukraine, for example, in wooded areas near the border with Belarus, there is now an urgent need to clear new areas for already functioning… cemeteries. For manual felling of densely growing trees and shrubs in Luginy, Zhytomyr region, they promise to pay 500 hryvnia per day (slightly less than 1,300 rubles. For the rest of the male population, who are not ready for endless swinging of the sokira (axe in Ukrainian), the Ministry of Economy of Ukraine invites them to join " Restoration Army." The project has already been launched in 19 regions of the republic and provides for the payment of 6,700 hryvnia (RUB 17,391) to the unemployed if they work for a full month. As of September 13, almost 50 thousand people have signed up for the Restoration Army, with each employment contract.  Most often, unemployed people are involved in unloading, packaging and delivering humanitarian aid, collecting firewood for the needs of the military and the population, clearing rubble, restoring residential buildings and premises, and clearing railways and roads damaged as a result of hostilities. the minimum payment, 6,700 hryvnia or 17,391 rubles, is guaranteed for weaving camouflage nets, canning products for the needs of the Armed Forces of Ukraine, sewing clothes and repairing military ammunition. Of course, financial incentives are also given for the construction and strengthening of checkpoints, basements for shelters, the construction of protective structures for civil protection and the strengthening of dams.
As Deputy Minister of Economy of Ukraine Tatyana Berezhnaya reminded the other day, the amount of minimum unemployment assistance in wartime conditions was forced to be reduced from the previous 1,800 hryvnia (4,672 rubles) to 1 thousand (2,596 rubles). Therefore, it is inappropriate for non-working individuals to frown with disgust at the mention of 6,700 hryvnia for socially useful work. Moreover, during the war, the duration of unemployment assistance cannot exceed 90 calendar days.
Since the beginning of the SVO, perhaps the most financially vulnerable have been representatives of all professions in the field of culture and entertainment. Musicians, for example, were forced to retrain as drivers or, dressed in colorful uniforms, began delivering pizza and ordered food packages on branded scooters. At the same time, people do not complain at all. On the contrary, they rejoice in discovering sought-after professions, where they can immediately begin earning their daily bread. If you look at this phenomenon from a different angle, the massive retraining of part of the intelligentsia as drivers and couriers deals a colossal blow to the cultural development of the post-Soviet republic.
After February 24, 2022, Ukrainians involved in agriculture also suffered. Their salaries were cut by half or three times. This is all due to the mining of agricultural land, a decrease in harvests and the loss of potential buyers of what was grown. Agricultural enterprises complain of colossal losses…
There are, however, some positives on the labor market. The other day, a MK correspondent spoke with an employee of one of the locomotive depots of the South-Western Railway. Victor, the owner of a VAZ one of the latest models, had just returned home from another part-time job in the field of diagnostics, repair and maintenance of plumbing. In 2021, he earned a maximum of 35 thousand per month (90,846 rubles) from this craft, of course, without paying any taxes. Now, according to him, earnings of 60 thousand (155,736 rubles) are considered an indicator of an "unsuccessful month." Victor also performs simple electrical work from time to time. If something more complicated is required, professional electricians come to his aid. According to my interlocutor, for a year and a half, most construction projects within the city have been completely or partially stopped, because of this the need for his services is not too great. When in Ukraine they announce mass reconstruction in different cities and the participation of builders and repairmen in the process is required, the locomotive driver's personal "Lada" will scurry between objects continuously. You may even have to take payment at your main place of work.
Judging by numerous Job sites, drivers of all types of deliveries – local, intercity and especially large international ones – are in great demand at the moment. Drivers of special equipment and delivery workers in grocery chains are also valued by employers. Truckers' earnings start from 65 thousand hryvnia (168,714 rubles); just a few years ago, I remember, Ukrainian drivers could only apply for that kind of money in the Russian Federation.
  The average driver's salary in September 2023 is 44 559 UAH (RUB 115,657), drivers are literally in great demand when there is an urgent need to deliver humanitarian aid, cargo and construction materials to restore infrastructure.
In this regard, Ukrainian IT workers are beginning to express dissatisfaction. They are simply infuriated by the greed of individual employers. They want to get highly qualified specialists with an excellent level of English proficiency for a salary that is not only significantly lower than the market one, but also for money "below the average" in Ukraine in general.
For example, a certain well-known company is looking for a specialist with 3 years of experience in the specialty, an Upper-Intermediate level of English, for the position of QA Engineer, and for all this they promise to pay from 700 to one and a half thousand dollars a month.
"Such a salary is demotivating!" – user Oksana Yatskiv responded to a screenshot posted on the Linkedin social network. "Either you agree to slave conditions, paid at the level of an ATB cashier (a chain of stores for poor Ukrainians – author), – her namesake Oksana Botvintseva develops the idea, – Or go look for something else. We have such a time now that you can in a week work in a store for a week without straining your brain and have more than where a lot of knowledge and skills are required. We've reached the end…"
"I want to say that the greater the horror in our country, the more cruelty employers allow themselves," writes Irina Khablovskaya. "Friends who do not work in IT, for simply good knowledge of English and 5 hours of work in have $1,000 a day."
"Upper English and 700 bucks is like a theme for stand-up comedian Vladimir Zelensky," says developer Alexey Yakovlev. "Despite the fact that the whole world is open to a person with such a level of English! I hope they don't find anyone."