There has been a reversal in the suburban real estate market
There seems to have been a reversal in the suburban real estate market near Moscow: at the end of last summer, for the first time since the beginning of the pandemic, the demand for dachas and cottages fell. Buyers' preferences have also changed significantly: rounded logs, laminated veneer lumber and ceramic blocks are no longer in fashion. MK found out which trends gained momentum at the beginning of autumn and where prices will go in the suburban real estate market.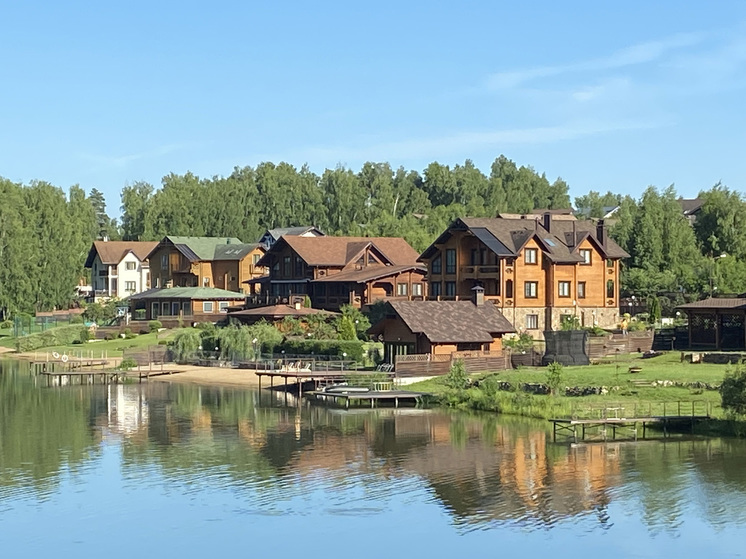 Photo: Sergey Artemov
As Pavel Lutsenko, general director of the World of Apartments portal, told MK, last summer in the Moscow region on the secondary market, dachas and cottages fell in price by an average of 4%. Demand switched to plots without a contract (UBP), which rose in price by 5% over the summer. And there are explanations for this. Firstly, in conditions of declining purchasing power, consumers switch to cheaper products, which are land plots. Secondly, most resale houses are non-standard objects, built "to suit one's own needs", and are often morally and physically outdated. Many of them are unfinished or have construction defects, problems with connecting communications, encumbrances, etc.
Most often, buyers are interested in 100% ready-made houses for permanent residence, which can be moved into immediately after purchase, and land plots in the individual housing construction format for further construction of a house according to an individual project, noted Yulia Dymova, director of the secondary real estate sales office of Est-a-Tet. According to her, the UBP format gives more freedom when choosing architectural solutions, reduces the cost of work and allows you to break it down into stages, which also benefits the family budget.
Let us note that the main problem of the primary suburban housing market is the acute shortage of personnel. Qualified masons, roofers, and plasterers left for long rubles to build housing in new territories. Many Tajiks and Uzbeks returned home due to the weakening ruble, and those who remained demanded at least 3 thousand rubles. in one working day. Therefore, it is easier, and often cheaper, to buy a ready-made house. But this is not easy to do.
Photo: Ivan Skripalev
According to the head of the suburban real estate department of MIEL "Sushchevsky" Tatyana Ananyeva, new turnkey houses, sometimes even with furniture, are sold within a week. The most active demand for such houses is in the economy segment, up to 12–13 million rubles, since they have a mortgage with state support. More expensive options are sold in 2-3 months. "More and more people view land resources as assets. These are good investments today. It's just important to choose the right direction and location," added Victoria Grigorieva, general director of BEST-Novostroy.
Let us remind you that over the past 12 months, one hundred square meters of land near Moscow has risen in price by an average of 15%. According to Lutsenko, the most affordable lots are located on Yegoryevsky (97,603 rubles/sq.m. and 790.3 thousand rubles per plot), Novoryazansky (107,094 rub./sq.m. and 867.6 thousand rubles.), Gorkovsky (127,909 rubles/cell and 1.27 million rubles), Kashirskoye (187,780 rubles/cell and 2.0 million rubles) and Simferopol (198,506 rubles/cell and 2.4 million rubles .) directions. On average in the Moscow region, one hundred square meters of land costs 497.5 thousand rubles, and the average plot costs 5.5 million rubles.
This season, customer preferences have changed. The fashion for log and brick country houses seems to be passing. Today, modular frame prefabricated houses are among the favorites. Of course, the choice of technologies depends on the purpose of the acquisition. "For dachas that are not a permanent place of residence, buyers prefer eco-style – houses made of logs and timber. But the demand for them is becoming less and less, because… lumber is becoming more expensive. Therefore, the popularity of more affordable prefabricated panel houses and houses made of gas blocks is growing," explained Grigorieva. According to her, buyers who consider suburban real estate as an alternative to living in the city prefer houses made of brick, aerated concrete, foam concrete and monolith.
"Now frame houses are selling better, people have "tried" them and began to trust their quality more. If a frame house is made without violating technology, then it is durable and warm," said Tatyana Ananyeva. And rounded logs are preferred by lovers of "forest" houses in the Moscow region.
"The most popular format is a house with an area of ​​110 to 160 square meters. m, buyers especially like one-story turnkey houses built in a modern style. And no matter what material the house is made of, the main requirement is the quality of construction," says Tatyana Maksimova, head of the Country Real Estate department of the INCOM-Real Estate company.
The most expensive directions are traditionally located in the west (Rublyovka , New Riga, Minka, Kievka), and the most accessible ones are in the east (Egoryevskoye, Novoryazanskoye, Shchelkovskoye, Gorkovskoye highway). Also, prices vary greatly depending on location. Nearby houses and dachas, up to 30 km from the Moscow Ring Road, are up to 10 times more expensive than distant ones, located near the borders of the region.
The same frame house with an area of ​​120 sq. m with a plot of 7 acres 30 km in the west, for example, in New Riga, will cost 11–13 million rubles, and in the east the same "framework" is about 20% cheaper. If all parameters coincide, the final price is influenced by transport accessibility, proximity to shops, and the status of the locality (gated cottage community or village). The cheapest houses for year-round living in the Moscow Region cost from 2.5–3 million rubles, and dachas (if it is not a barn or an abandoned building) cost from 300–500 thousand rubles.
According to Grigorieva, buyers should pay attention to the south. Firstly, transport accessibility has increased significantly in the southern direction. There is a large land bank in the south of the Moscow Region; large-scale multi-format projects will be launched here in the near future. This helps to improve social infrastructure and increase the cost of housing.
You can count on discounts in cases where obsolete properties built in the nineties and early 2000s are sold. "Prices for UBP and new turnkey houses will definitely not fall," Tatyana Ananyeva is sure. In her opinion, as long as state support for individual housing construction works, there are preferential mortgages for construction, demand will be high. Plus, developers have become more active; over the past two years, many interesting projects have appeared, built with low-rise buildings.
According to Pavel Lutsenko's forecast, by the New Year, prices in general for the "fence" may fall by 5%. Well, then everything will depend on the economic situation, inflation, mortgage opportunities for suburban properties, etc.," the expert concluded.