Economist Nikolaev: "A simple increase in the key rate is not capable of strangling inflation"
Inflation in Russia continues to grow, adding almost one percent per month this fall. If we rely on more accurate calculations by Rosstat, then in October the growth in consumer prices amounted to 0.83% after 0.87% in September. In annual terms, inflation accelerated to 6.7%, a month ago it was exactly 6%. MK looked into what is pushing prices up and to what levels they will reach by the end of the year.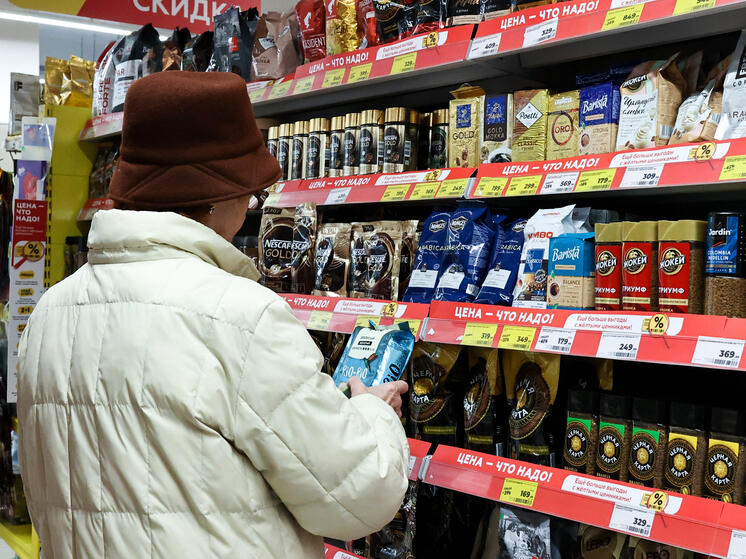 Photo: Global Look Press
The official inflation figures for October, published by Rosstat, did not become a sensation for specialists. Analysts were expecting exactly these numbers – plus or minus one or two tenths of a percent. But this is little consolation, since prices continue to rise quite significantly. For comparison: exactly a year ago, in October 2022, inflation was only 0.18% – five times less than the current monthly figure.
Against this background, the authorities' forecast for inflation for the entire year seems even too much optimistic. Let us recall that the Central Bank plans this indicator at the level of 7-7.5%, and the Ministry of Economic Development – 7.5%.
What was pushing inflation up in the middle of this fall? The greatest contribution to it, as one would expect due to the seasonal factor, was made by the increase in prices for fruits and vegetables. In October they jumped by 1.91% after a rather modest increase of 0.24% in September. In total, over the 10 months of this year, fruit and vegetable products have risen in price by almost 11%.
And here there are clear leaders in price increases: tomatoes increased in price by 31%, garlic – by 8.5%, bananas – by 5.8%, oranges – by 3.6%. True, at the same time, prices for potatoes decreased by almost 9%, cabbage – by 7.7%, carrots – by 6.6%, apples – by 6%. It is curious that the prices for tomatoes have increased to a greater or lesser extent in all subjects of the Federation, except for the Magadan region, where they have fallen in price by almost a percent.
Among other types of food, eggs and chicken have significantly increased in price. Thus, eggs in October compared to September rose in price by 13%, since the beginning of the year – by 18.7%, in annual terms – by almost 24%. Since the beginning of the year, chicken meat has risen in price by 29%, and compared to October last year – by almost 27%. In general, food products throughout the country have become more expensive by 5.3% since the beginning of the year.
Of other types of goods and services, the increase in the cost of passenger transport is noteworthy. Prices for economy class air travel increased by 10.8%, metro travel by 7.2%, tram travel by 4.4%, and commuter train fare by 3.7%. Car rental prices increased by 3.8% over the month.
But tourism services have become noticeably cheaper. Prices for trips to Egypt decreased by 12.2%, Turkey – by 11.4%, Transcaucasian countries – by 5.7%, Belarus – by 4.8%. Also, vacation trips to the Black Sea coast of Russia and Crimea have fallen in price – by 12.4%.
– we address the question to the chief researcher at the Institute of Economics of the Russian Academy of Sciences, Doctor of Economics Igor Nikolaev.
"Wait for prices to rise," the expert answers. "According to Rosstat data, in annual terms, inflation is growing from month to month." And, most likely, by the end of December it will be 7.5%, as indicated in the official government forecast.
– But the monetary authorities are taking measures to slow down price growth. It was for these purposes that at the end of October the Central Bank sharply – by 2 percentage points at once – raised the key rate…
– Yes, the rate was raised. But inflation has not decreased. This means that non-monetary factors play a decisive role in price increases. The head of the Central Bank of the Russian Federation, Elvira Nabiullina, recently said that the main problem of our economy is personnel shortage. In the struggle for qualified employees, employers are raising wages – at least for some workers. This maintains consumer demand at a fairly high level and contributes to higher prices.
A simple increase in the key rate is not able to stifle inflation. The Central Bank is doing everything it can, but this is not enough to reduce prices.
– We must understand that the current price increase is a side effect of the fiscal stimulus that the government is practicing. It actively poured money into the economy this year, and will do the same next year, since budget spending for 2024 is planned to grow by as much as 20%. More money in the economy means higher inflation: this is a pattern.
– However, they do not explain how this decrease in inflation will occur. I don't see such factors, and therefore I believe that inflation will grow until the end of this year and further into the next.
– I won't be original here. First of all, the seasonal factor will have an impact, and therefore, most likely, prices for fruits and vegetables will rise for the New Year.