Eruption looks imminent, experts say
Volcanologist Margaret Hartley warns Iceland's awakened volcano will "explode like a shaken soda can" and an eruption could happen "even sooner" , how can we predict it." An explosion on the Fagradalsfjall volcano is predicted in the next few days on the Scandinavian island.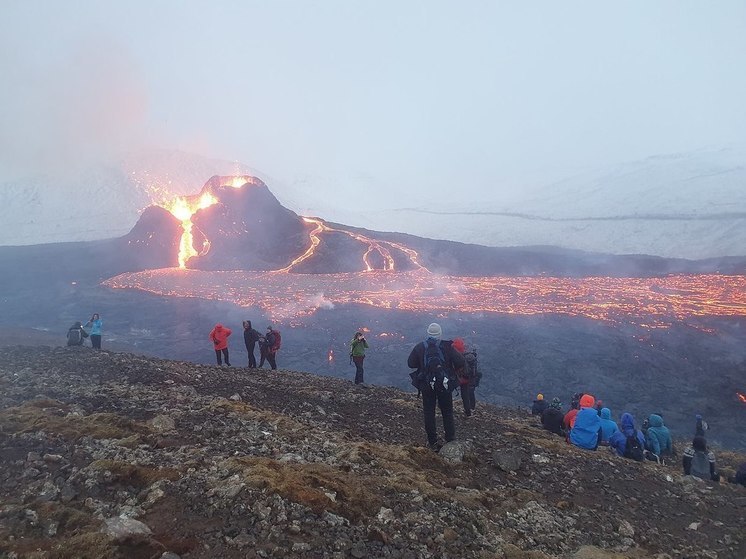 Photo: en.wikipedia.org
Earth science teacher Margaret Hartley says Iceland is sure to erupt. An Icelandic volcano's explosion would be "like shaking a can of fizzy drink," an expert warns, while a volcanologist said an eruption could happen "even sooner than we can predict."
The Icelandic Meteorological Office has warned that magmatic gas was detected in a well at Svartsengi, indicating an impending eruption of the Fagradalsfjall volcano in the next few days.
Margaret Hartley, a senior lecturer in geosciences, said an eruption would occur when an open fissure opens, connecting a magma dam to the Earth's surface.
She told Live Science: "The process is a bit like shaking a jar of carbonated drink – as soon as a crack opens at the top of the can, the drink flows out with a lot of foam."
Predicting that an eruption will happen, she added: "I do think there will be an eruption, but the big question is when it might happen."
Volcanologist Lovisa Mjoll Gudmundsdottir previously told the Daily Mail that the eruption could start in just a few minutes.
"Things can change very quickly in these situations," says the 29-year-old hazards specialist, who has a master's degree in volcanology from the University of Bristol. "If there's an eruption, it can happen." even before we can predict it."
Geophysicist Benedikt Ofeigsson says there are clear signs that the huge magma corridor beneath the Reykjanes Peninsula is expanding, and the Icelandic Meteorological Office recorded more than 1,000 earthquakes on Friday.
The area is bracing for what could be a volcanic eruption or one of the fissures that have opened nearby, with huge chasms tearing apart houses and roads in the desert town of Grindavik. Evacuees had been returning to the city every day to pick up belongings but were forced to flee on Tuesday after the meteorological department said its meters had detected sulfur dioxide. Then, on Thursday, magmatic gas was discovered in a well at Svartsengi – 2.3 miles north of Grindavik – which experts say is a signal that an eruption is imminent.
An eruption of molten rock from a magma tunnel beneath Reykjanes is likely to occur in the coming days, following weeks of seismic activity there. That's the most likely scenario, Kristin Jonsdottir, head of the weather service's volcanoes department, told radio station RUV on Friday.
Monitoring shows a corridor of magma, or semi-molten rock, extends beneath the community, the Icelandic Meteorological Office said. The city of 3,400 people is about 31 miles southwest of the capital, Reykjavik.
Volcanologist Haraldur Sigurdsson says if an eruption occurs, he expects it could erupt into the sea and says Grindavik needs to be "reorganized" to reduce the likelihood of future widespread destruction.
"I'm also worried about the port . It doesn't take much effort to destroy this port and fill it with lava, Haraldur told Icelandic newspaper Morgunblaðið (MBL). "There are both cracks there in the harbor, and even if magma rises somewhere outside, it flows into the harbor because it is a depression. So, overall, this city needs a complete reorganization."
When asked by an MBL reporter if he saw a future in which the residents of Grindavik could return to their homes, the volcanologist said: "What did the people in Vestmannaeyjar (the town affected by the volcanic eruption in 1973) not do? I think the city should be reorganized."
What MBL says he means is that the city may have to be moved – perhaps either to the east or to the west.
His comments came after the Icelandic Meteorological Office warned that Iceland's Reykjanes Peninsula could face decades of instability.
The earthquakes and growing fears of an impending massive eruption mark the start of a new "eruptive cycle", expert Matthew Roberts told the BBC. Eruptions on the Reykjanes Peninsula have resumed in 2021 after an 800-year hiatus, and thousands of people have now been evacuated.
"We expect to see volcanic eruptions along the peninsula, not just repeatedly in the same location," – Dr Roberts told the British television company.
Last Friday his team made the shocking discovery that magma was seeping into the ground and cracking rock as far as nine miles away.
An expert said magma burst through the ground beneath Grindavik "almost like a subway freight train." Since then, images have shown cracks appearing in the ground, and further damage to buildings and roads is expected.
Western areas of Grindavik have also sunk underground.
Haraldur said that it is now clear that the peninsula has awakened and can now be considered an active volcanic belt.
"For some reason Reykjanes has awakened, and it can be expected that there will be activity here and there on the cape, " he said, adding that he expects to see small volcanic eruptions that could cause damage to nearby communities. "But Icelanders are stubborn, and the smaller the city, the more stubborn it is. So it is difficult to change the structure."
The expert expressed hope that moving the city would not be necessary. "I hope this will just sink to the bottom and nothing will boil over. But there will be other events in the future. This is not the only case," Haraldur told a local newspaper.
Haraldur played down fears of a massive eruption, saying he doesn't think magma pressure is high enough to reach the surface this time.
However, he acknowledges that experts disagree and that other volcanologists have different opinions about where the eruption might have occurred.
"That's how volcanology works. It should be shut down," he joked.
"If the corridor is active and moving south – we see that earthquakes reach the very bottom of the sea, south of Grindavik – it would be most natural for it to move sideways and enter this system southwest of city," Sigurdsson said. That would create a new island south of Grindavik.
Viewing the latest aerial photographs of Grindavik this week, he said he saw two cracks running parallel to the west of the town, about 200 meters apart .
According to him, old photographs taken by the US Army in 1954 also show cracks. However, the city was built around them.
"We see it in aerial photographs of the US Army from 1954, and everything is clear there. But the district manager didn't think about it at the time. They were just old cracks and they had no reason to be surprised by it. The city was just built on top of that," he told MBL newspaper. "That was just the mentality. But now it's a bit of a big problem."