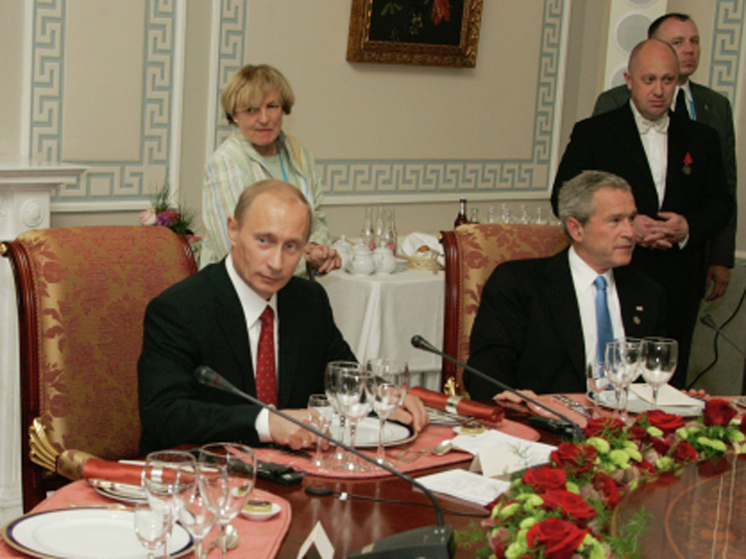 Working lunch of the heads of state and government of the Group of Eight, 2006, St. Petersburg Photo: RIA Novosti
Former US President George W. Bush (who served as head of the American state from January 20, 2001 to January 20, 2009 – Ed.) was shocked by a photo of his dinner with Russian President Vladimir Putin, in which he was captured with the founder PMC "Wagner" by Evgeny Prigozhin. The authoritative leader was a waiter at the event at the time. The photo was taken in 2006 in St. Petersburg during the G8 summit (at that moment this international association included, in addition to the USA, Japan, Germany, France, Britain, Italy and Canada, Russia). The words of the former US President are quoted by Business Insider, accompanying the publication with a photograph.
"It shocks me that the other day I saw a photo of the G8 summit in St. Petersburg, where [Prigozhin] was the guy who served me food," Bush Jr. said during the Yalta European Strategy .
Let us recall that the Yalta European Strategy is an event positioned as an international annual conference of Ukrainian and foreign politicians and entrepreneurs in the city of Yalta, within the framework of an organization founded in 2004 by Ukrainian businessman Viktor Pinchuk. Difficulties arose in holding this forum after Crimea joined Russia in 2014. In 2023, the Ukrainian authorities will hold the event in Kyiv. The forum has already been visited by US Secretary of State Antony Blinken, followed by former British Prime Minister Boris Johnson in Kiev.
Evgeniy Prigozhin died as a result of the crash of an Embraer Legacy business jet on August 23 in the Tver region. The plane crash was caused by an explosion, the circumstances of which still remain unclear. The Investigative Committee of the Russian Federation confirmed the death of the founder of the Wagner PMC. Earlier, the Interstate Aviation Committee (IAC) stated that they were not investigating the crash of an Embraer plane in the Tver region. Yevgeny Prigozhin was buried on August 30 at a cemetery in St. Petersburg.